Invoicing
Service rates
Service price is standardised as per the following rates:

Rates for professionals and small companies from 1 to 10 users/dosimetric controls for one installation and a single invoice.
Rates for companies with over 10 users/controls where rate is calculated by number of users per distribution thereof
Special rates for non-continuous or temporary services and other casuistics
Rates are also provided for courier services which centro de dosimetríamay hire for the dispatch and/or collection of the dosimeter equipment to/from your installation

Customers are notified of the rates annually by post or internet.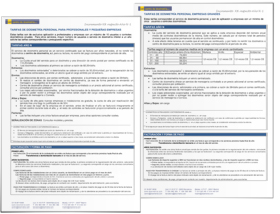 Service invoicing
Service invoicing format adapted to its rendering.
An annual invoice is issued which includes forecast of services hired for the year in progress as per attached delivery note, and payment/charge (if appropriate) corresponding to invoicing closure of previous year. The method used to forecast-regularise is based on invoicing of services actually rendered. As this is a continuous service, said system contains the variations occurred throughout the year, albeit in dosimetric control equipment, logistic losses, etc.
This invoicing method enables the invoicing process to have minimal impact on the final cost.
Invoicing method and conditions of payment are set out on the rate sheets.
Possibility of agreeing special invoicing and/or payment conditions with the administration department.